Top Tools for Learning 2021
Jane Hart hat gerade wieder ihre jährlichen "Top Tools for Learning" veröffentlicht. Zum 15. Mal bereits! Grundlage bilden die Einreichungen von 2.077 TeilnehmerInnen aus 33 Ländern. Mittlerweile ist die Gesamtschau auf 300 Tools (!) angewachsen, aber wie schon in den letzten Jahren bietet Jane Hart wieder verschiedene Filter an. So gibt es die "Top 150 Tools for Personal Learning (PL)", "… for Workplace Learning (WL)" und "… for Education (ED)". Hilfreich ist aus meiner Sicht auch die Kategorisierung aller Tools.
Was gibt es nun für Bewegungen zu verzeichnen? Jane Hart schreibt: "2020 was the year of video meeting platforms as organisations scrambled to support remote working and learning in lockdowns. However in 2021 it seems many organisations and education have been exploring and experimenting with a much wider range of tools and platforms."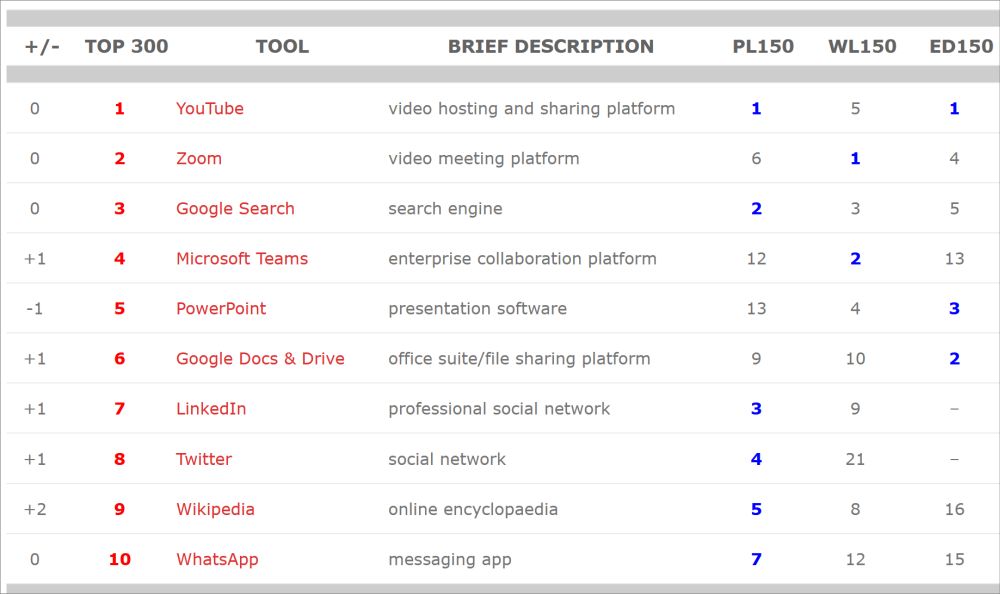 Ihre 15 kurzen Randbemerkungen beginnt sie mit folgenden Kategorien: "Video meeting tools", "Live engagement tools", "Online whiteboard tools", "workflow/ project/ team management platforms" und "virtual training and workshop platforms".
Wahrscheinlich bietet uns Jane Hart in den nächsten Tagen weitere Lesehilfen für einzelne Listen an. Bis dahin ist es eine schöne Gelegenheit, die eigenen Präferenzen mit denen der Community zu vergleichen oder einfach zu stöbern.
Jane Hart, 1. September 2021
Bildquelle: Pixelkult (pixabay)