2020 Global Human Capital Trends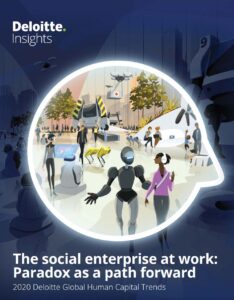 Unter dem Titel "The social enterprise at work: Paradox as a path forward" haben Deloitte wieder ihren jährlichen Human Capital-Report veröffentlicht, den zehnten seit 2011. Wieder haben sie ihre Beobachtungen in zehn Trends zusammengefasst. Zwei zahlen direkt auf Corporate Learning ein, "Knowledge management: Creating context for a connected world" und "Beyond reskilling: Investing in resilience for uncertain futures". Das Kapitel "Knowledge Management" habe ich mir einmal näher angeschaut.
Der zentrale Appell dieses Absatzes lautet: Die meisten Befragten verbinden mit Knowledge Management heute noch "Sharing knowledge: Documenting and disseminating knowledge", die wenigstens sind bereits beim "Creating knowledge: Developing new services, solutions, products, or processes" oder gar "Deriving value from knowledge: Tying knowledge to action" angekommen. Ansonsten machen die AutorInnen den Entwicklungsstand von Knowledge Management vor allem an der Frage fest, ob die Unternehmen das Potenzial technischer Lösungen ausschöpfen: von Enterprise Social Networks, aber vor allem von KI. An dieser Lücke werden entsprechende Empfehlungen festgemacht. Eine Reihe von kurzen Beispielen unterstreichen die Ergebnisse.
"KNOWLEDGE MANAGEMENT THROUGH THE YEARS IN GLOBAL HUMAN CAPITAL TRENDS
Knowledge management has evolved in leaps and bounds over the last decade with the emergence of new technologies that capture and disseminate information at rapid speeds. Our Global Human Capital Trends reports have reflected that journey, acknowledging the importance of employee knowledge-sharing to business success in 2014, discussing the development of internal knowledge-sharing programs in 2016, and marking the emergence of new learning and knowledge-sharing systems in 2018 that curate both internal content and open-source content for worker use and development. In 2019, our top-ranked trend was "Learning in the flow of life," in which we discussed the shift from knowledge-sharing and learning as something that happens separately from work to something that is integrated into workflows in small doses, almost invisibly, throughout the workday. This year, we build on that perspective, describing ways that organizations should leverage new technologies that can not only contextualize information, but push it through an organization's systems to teams in ways that support problem-solving and help workers innovate and uncover new insight." (S.66)

Empfehlen kann ich nach einem ersten Blick noch die Einführung, in der auf eine Dekade Human Capital-Studien zurückgeblickt wird. Und wie immer gibt es die Studie als komplettes Dokument (125 S.), aber auch in vielen weiteren medialen Bausteinen.
Deloitte, Mai 2020