2020 EDUCAUSE Horizon Report™ | Teaching and Learning Edition
Der jährliche Horizon Report ist eine Institution, wenn es um den Blick nach vorn im Bereich der Lerntechnologien bzw. digitaler Bildung geht. Von daher ist es schön zu lesen, dass EDUCAUSE als gemeinnützige Bildungsorganisation die Schirmherrschaft über das Projekt übernommen hat und es weiterführt. Aber mit ersten kleinen Änderungen: Es wirkt lesefreundlicher, aufgeräumter und besteht aus vier großen Kapiteln: "Trends", "Emerging Technologies & Practices", "Scenarios" und "Implications". Der Fokus dieser Ausgabe liegt unverändert auf dem Hochschulbereich.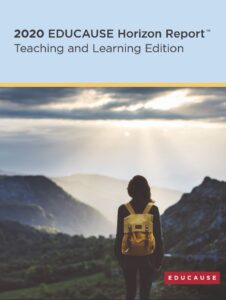 Herzstück des Horizon Reports waren und sind sechs technologische Entwicklungen, die das Panel internationaler Experten ausgewählt hat und vorstellt. Hier hat man das Spielfeld mit "Practices" etwas erweitert, und man ist davon abgerückt, jedem technologischen Trend eine "time-to-adoption" zuzuordnen ("… a prediction precision that the project was unable to achieve", schreiben die Herausgeber ganz richtig). Stattdessen wird jeder Trend kurz eingeordnet: "impact on learning outcomes, level of risk in adoption, faculty receptiveness, issues of equity and inclusion, and required level of spending".
Das als Vorspann. Hier folgen die Trends:
– Adaptive Learning Technologies
– AI/Machine Learning Education Applications
– Analytics for Student Success
– Elevation of Instructional Design, Learning Engineering, and UX Design in Pedagogy
– Open Educational Resources
– XR (AR/VR/MR/Haptic) Technologies
Über diese Auswahl kann man, wie immer, trefflich diskutieren. Stephen Downes hat zum Beispiel gleich angemerkt, dass die ersten drei Stichworte irgendwie um das gleiche Thema kreisen …
Malcolm Brown u.a., EDUCAUSE, 2. März 2020
Nachtrag (13.03.2020): Ein längerer Kommentar zum Horizon Report findet sich im Campus Innovation Newsletter vom 12. März 2020.