Learning Technology Evolves: Integrated Platforms Are Arriving
Josh Bersin zeichnet für uns die neuesten Marktbewegungen rund um "Learning Technologies" auf. Seine Beobachtung: Der Markt ist sehr fragmentiert, klassische Lernplattformen bilden nur noch einen Teil einer modernen Lerninfrastruktur. Hinzukommen Stichworte wie "micro", "videos", "podcasts", "tests/ quizzes", "interactions", hinter denen separate Plattformen und Tools stehen. Und alles unter dem Dach einer "Learning Experience", die der Mitarbeitende bzw. Lernende erwartet.
Vielen Unternehmen als Kunden ist diese Welt aber zu komplex: "But many companies are getting tired of being the "general contractors" for their learning experience, and they want to start buying "a complete house." So vendors are becoming more integrated."
Deshalb prophezeit Josh Bersin die nächste Welle integrierter Plattformen. Also die Wiederholung einer Welle, die einst die klassischen Lernplattformen nach oben getragen hat. Welche Rolle diese klassischen Lernplattformen in dieser Entwicklung spielen werden, lässt er allerdings offen.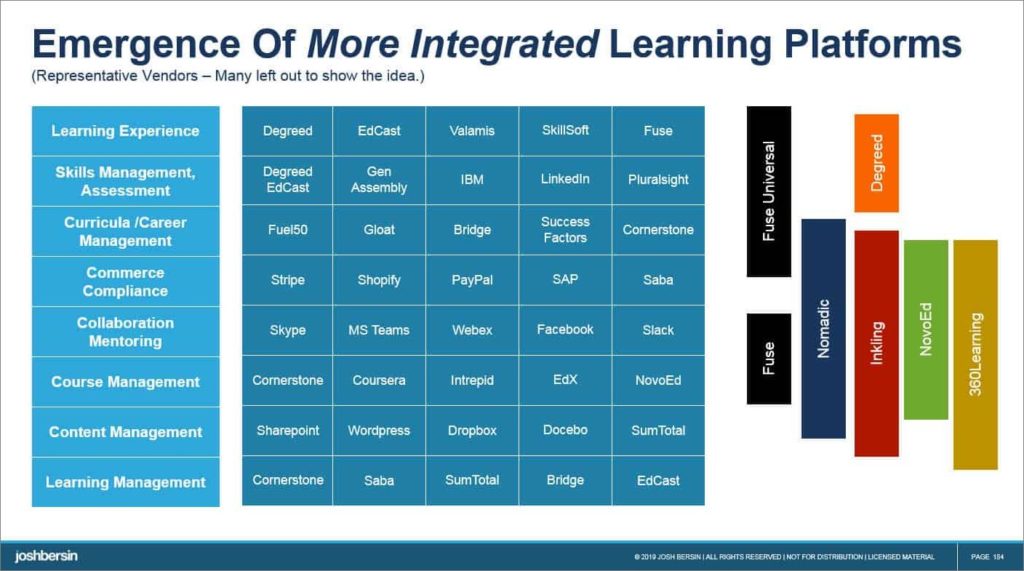 Vielleicht noch eine kurze Anmerkung: Josh Bersin skizziert neueste Entwicklungen, die zuerst den globalen, amerikanischen Markt treiben, um dann schrittweise auch hierzulande anzukommen. Das ist spannend, weil in diesem Bild alle aktuellen Trends und Buzzwords auftauchen. Für viele KMUs in Deutschland sind jedoch die klassischen Lernplattformen der ersten Welle noch die integrierten Lösungen, die sie für ihre Weiterbildung suchen …
Josh Bersin, 29. Juni 2019