A Product at Every Price: A Review of MOOC Stats and Trends in 2017
Class Central hat seinen jährlichen MOOC-Überblick auf eine Reihe von Artikeln verteilt, aber hier ist sozusagen das Herzstück. Es gibt uns verschiedene Statistiken mit auf den Weg, von der Anzahl der weltweit zugänglichen Kurse bis zur Zahl der neu eingeschriebenen Studenten. Aber am interessantesten sind natürlich die sechs Trends, die aus Sicht von Class Central 2017 zu beobachten waren.
1. A product at every price point
Ursprünglich waren MOOCs offene Kurse, "open", wie es ja das Akronym ausdrückt. Vom ersten Tag an stand aber die Frage im Raum, welches Geschäftsmodell hinter "open" stecken kann. Heute haben die MOOC-Anbieter eine Reihe von kostenpflichtigen Formaten und Angeboten entwickelt. Class Central spricht von sechs Stufen, die von "free" bis "corporate training" reichen.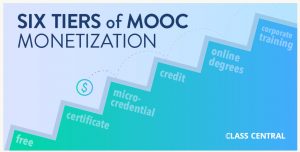 2. Content Paywalls
Der Punkt unterstreicht noch einmal die Geschäftspolitik der MOOC-Provider. Die Zahl der offenen Kurse nimmt ab. Immer mehr verschwindet hinter der Paywall.
3. MOOCs find their audience: Professional Learners
Auch was die Zielgruppen betrifft, folgen wir der Logik des Geschäftsmodells: "The real audience for these courses is not the traditional university student but what Levin calls the "lifelong career learner," someone who might be well beyond their college years who takes online courses with the goal of achieving professional and career growth."
4. Online Degrees and Corporate Training
Das sind die lukrativen Märkte, auf die die MOOC-Anbieter zielen. Zum Beispiel Coursera: "On the corporate training side, Coursera ended 2017 with more than 500 companies signed up for its Coursera for Business service, up from 30 last year."
5. Increased Flexibility and Convenience
Ob feste Kurstermine oder "on demand", ob längere oder kurze Module: Die Anbieter sind flexibel und passen sich den Wünschen ihrer Zielgruppen an.
6. MOOCs Are Showing Up On Campus
Erste Hochschulen beginnen, auch die MOOCs anderer Universitäten in ihre Curricula zu integrieren. Class Central zitiert hier ausführlicher einen Piloten, den die TU Delft mit acht anderen Hochschulen gestartet hat.
Auf der Plattform von Class Central findet sich eine Reihe von weiteren Artikeln, die diese Trends noch einmal vertiefen. Andere konzentrieren sich auf die Entwicklungen der großen Anbieter wie Coursera, Udacity, FutureLearn und edX. Die folgende Zusammenfassung bringt das vergangene Jahr noch einmal auf den Punkt:
"Over half a decade since their debut, MOOCs may finally have found their footing and a sustainable revenue model. No, they didn't disrupt universities, but they may have changed how working professionals access continued learning and career advancement opportunities. The tiered monetization models enable MOOC providers and universities to monetize efficiently. The credibility and quality of the the lower tiers is boosted if the same courses are are available to earn credits or count towards degrees.

And who knows, 2017 could just have been the year MOOCs became big business."
Dhawal Shah, Class Central, 22. Januar 2018
Bildquelle: Class Central